On the 6th Oct 2011 Justice and Arts Network and the NSW Young Lawyers Anti-Discrimination Working group/ Human Rights Committee; will present the first Anti-Discrimination Working Group forum.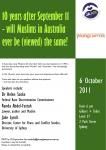 Well there's no doubt at all that being Muslim is increasingly questioned in many Western countries, ie with cynicism.
This question's footnote is framed in a manner so as to remind us of the official and popular meme of an attack upon America's WTC & Pentagon with the use of aircraft hijacking by Muslims; and to "also" view the shift in Islam or the perception of Islam in that context.
The footnote is asking us to consider that Islam itself (thanks to the "terrorist") OR the perception of Islam (thanks to Islamophobes), like those aeroplanes was "also" 'hijacked'.
Shouldn't a lawyer at this "workshop" yell out "objection!" at the loaded statement, as nobody has ever been found guilty?
AT LEAST a technicality, I'd have thought.
So the footnote is premised upon the hijacking of aircraft and the subsequent attacks by people of the Islamic faith, and it can be read as asking the question, 'have these terrorists' also hijacked Islam?'
In this context, there's one way to accurately rephrase this footnote while retaining it's premise and all it's associated imagery and still leave the readers with the same understanding.
"Muslims hijacked planes on 911, attacking the World Trade Centre and the Pentagon; have these terrorists also managed to hijack Islam?"
We'll just skip all that and put it down to careless word choice; surely they don't mean us to understand it as 'Islam now being a religion exclusively for terrorists', and we'll stick to the main question;
Presumably the purpose of this workshop is to address with the hope of improving the recognised increasingly negative view of Muslims.
In order to achieve those ends, surely we'd need to expose and deconstruct those elements which have contributed to the negative view of Muslims and or Islam.
So who or what is it that has hijacked the public's perception of Islam and Muslims?
We know that the Main Stream Media (MSM) is at least partly responsible for distorting perceptions by either omission or commission,
The MSM was culpable in failing to question evidence which the whole "conspiracy theory" movement saw as obvious. The MSM played the tune of their corporate oil, finance, and military industrial complex overlords, as did most Politicians, and high profile intellectuals, academics and public servants; in most cases for no more reason than reluctance to jeopardise the catching of scraps as they fell on their plates
The general public isn't given to understand the reality when:
OR
OR
OR
OR
evidence of USA satellite imagery of Iraqi troops mustering at the Saudi Arabian border, is yet to be revealed as it was promised
The occasional politician tries to speak up against the distorting of public perception and even policy.
Labor policy on the Israel-Palestine conflict had been "hijacked by powerful forces"
If occasion should arise for a positive angle on the Muslim position, then certain elements within Australia are quick to jump.
over an accompanying deceptive image of "children behind bars" that SMH and the Age no longer have the offending image on their website.
It's not a simple matter to expose all factors contributing toward a negative perception of Muslim, but it's all too obvious and easy enough to identify one significant factor.
Surely, Dr Helen Szoke: federal Race Discrimination Commissioner; don't you feel it discriminatory for the Australia-Israel and Jewish Affairs Council, as according to Page 2 of "The Australian" Wed Nov 28 2007:
to have had a special American guest speaker by the name of Michael Ledeen at their functions telling Australians that they should be looking into the Halal trade because it's the clever place to look for Iranian sleeper cells.
ie.Michael Ledeen author of 'Iranian Time Bomb:The Mullah Zealots.
AIJAC no longer have reference to the Hallal thingy on their website. ... they must be running out of hard drive [wink]
Coincidently, while The Australian newspaper showed us how some people, including them and all of Australia's media including ABC who ran with that story are promoting their narrative for historical reference, others are being hindered from speaking on unrelated issues because they have dared to question historical narratives. On the very same day in The Australian on Page14, with Swastikas and all, protesters at England's Oxford University attempted to prevent David Irving from debating on the issue of free speech; they prevented 1/2 the ticket holders from getting in shouting "Kill Tryl' (in reference to Luke Tryl, the President of the Organising body 'The Oxford Union'.
Oxford University's Jewish Society President Daniel Bloch boasted, ironically in the context of this blog, how he received support from The Islamic Society.
What a shame Jewish groups aren't so diligent when it comes to defending views which can muster sympathy for the other Semites' causes.
Back to Michael Ledeen for a moment. AIJAC's Ledeen is a 'show no mercy', 'no holds barred', full blown rabid frothing at the mouth Zionist eager to see full spectrum dominance.
Here are a few more of AIJAC's conjoined propagandists.
"The terms; Palestine and Palestinians are Islamic imperialist phenomenon. There is nosuch thing as a Palestinian people. Before 1948, they were referred to as Syrians. Therewas only Syria. The Palestinian phenomenon was created with the intention to justifyJihad."
Heaven forbid I appear antisemitic, but shouldn't a federal Race Discrimination Commissioner show interest when an element within the Australian Community, along with their conjoined international corroborators, propagate and perpetuate myths of Islamist Terrorists.
It's clear to see that we have significant element within the Australian Community that Muzzle those who support Israel's perceived enemies; and they advance voices that demonise Israel's perceived enemies.
Although this "workshop" is apparently meant to offer some antithesis to the perception of Muslims and or Islam; the panel is to address an issue which is framed to reinforce the assumption that Muslims alone perpetrated the killing of 3000 people on 11th/Sept/2001.
Exactly what those who oppose Muslims are saying.
But our workshop's 'antithesis' is to accept the same official government paradigm.
Let's get our story right… Here's the official 911 version.
I don't know, I'm not a political tactician; but in my opinion, this "workshop" offers an opportunity to raise some tough issues and to expose opponents into a retreat.
IMO; some hard political blows need to be struck.
This "workshop" should not be permitted to denigrate the Muslim community any further than it has been.
The discussion should not revolve around the question of Islam being hijacked, but rather how the image of Islam as perceived by the West has been hijacked.
Any attempt to address this question with the view of improving must give consideration toward those that have contributed to Islam's denigration.
I understand that in normal politics, "diplomacy" is required, but in this case, I'd call anything other than a political attack "pussy footing", in light of what you're up against.
Enjoy the "WorkShop".